Ogling Miss Daisy
Not to steal
Libertydog
's "Girl Friday" schtick or anything, but I happened across a photo from the cover of this month's GQ: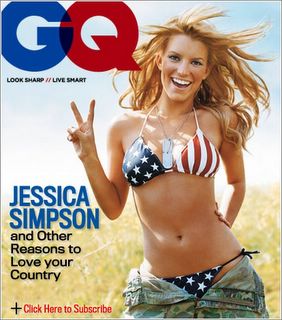 Jessica Simpson on GQ (GQ Photo)

Let's be perfectly honest here: Jessica Simpson is sheltered, naive, and a bit dense. But she has surprisingly good comedic timing, she loves her country, and she's just about the hottest hottie that ever hottied. So the new Daisy Duke is thus immortalized here at The Zoo.
In other news, the controversy over Karl Rove's recent (and largely accurate) statement about liberal appologists seems to have stirred my hibernating political animal. Might he come out of his wintery den to maul a few tiny and frightened leftists? Could be.
Could be.
S