Freaks, Geeks, and Hot Chicks in Costume
Here it is, The Zoo's Great
DragonCon
Photo Essay of 2004! Yay! So, without further ado: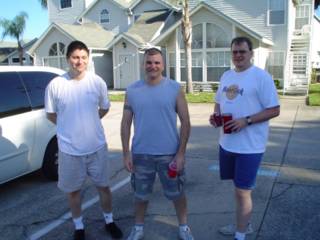 Roy, Sandor, Tait

This is Roy, me, and Greg Tait getting ready to leave (Jonathan took the picture). Notice my clear eyes, lucid smile, and general look of sobriety and health. It wasn't to last.
Also notice the lack of a hurricane beating the crap out of Tampa. That didn't last either.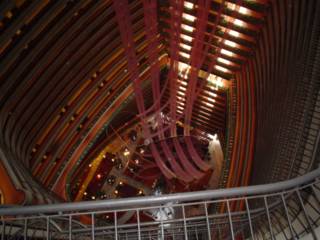 Marriott Atrium

This is the view from our floor, looking down the central atrium. John and I both get vertigo from looking over precipitous drops, so we were unthrilled with our 31st floor room. I actually ended up staying with Tait on the 18th, which was a little better (but nothing compared to the awesome glory that, say, the 5th would have been).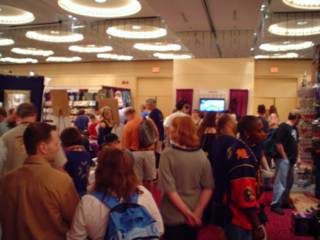 Dealer's Room

This is the dealer's room. Actually, it's a
small part
of
one
of the dealer's rooms. They had stuff for sale at this con that most of us more ordinary geeks didn't even know existed: All the original
Star Wars
movies – sans Lucas' moronic edits – burned onto DVD from laser disk. DVDs of almost everything you can imagine, in fact, from
I Dream of Jeanie
to
Space 1999
to
Plan 9 From Outer Space
. Fetish gear. T-shirts in thousands of varieties. And giant metal sculptures of aliens.
I bought a new 20-sided die and a couple packs of cards for the new
Pirates of the Spanish Main
game. What can I say? I'd rather spend my money on good food and liquor.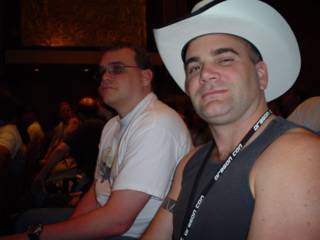 At the Firefly panel

If any of you are
Firefly
fans, this event would have been for you. Nathan Fillion, Jewel Statie, and Adam Baldwin (Captain Mal Reynods, Kaylie, and Jayne Cobb, respectively) were on hand for panel discussions about the series and the upcoming movie,
Serenity
. We were to far away to get pictures of them – their panels had thousands of attendees – but here's me and Tait at the first discussion they did. It was the very first day of the con and I was already hung over.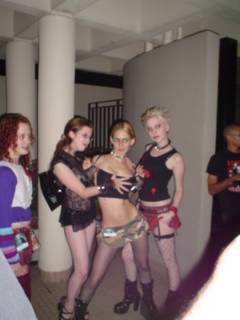 No Caption Needed

These young ladies weren't actually in costume, so I can only assume Jonathan took the picture as a test of photographic composition. Notice the delicate interplay of light and shadow, the subtle arrangement of form and texture. The man is a true artist.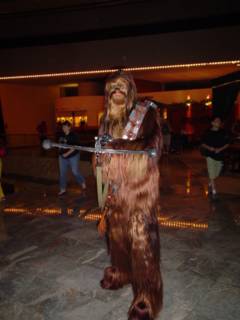 The Mighty Chewbacca

One of the best costumes at the con. I can only imagine the work, or the money, or both, that went into this. Sometimes I wish I had this kind of dedication to geekdom. But only sometimes.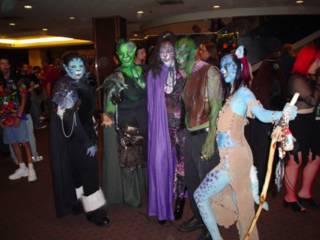 Paint Jobs

More excellent costumes. That makeup is actually airbrushed on them, which has to be time-consuming and uncomfortable. Lots of people went all-out like this.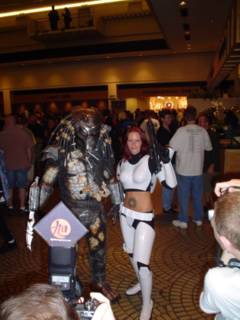 The Lady is a Trooper

The Empire was stupid. If stormtroopers had looked like this, Han and Luke would have surrendered in five seconds flat.
"Freeze, rebel scum!"
"Oh yeah, I'm rebel scum alright. Now give me some sugar, baby."
I think there are other objects and people in this picture, but I haven't managed to look at them yet.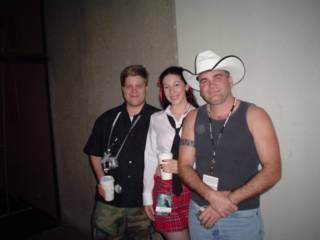 Ryan, Reannan, Sandor

By far the most interesting person I met at the con was Reannan, the beautiful young woman standing next to me here. I'd go so far as to say she is the most interesting person I've met in the last five years, in fact. She liked my cowboy hat.
With us in the picture is Ryan, Reannan's buddy. Ryan is a kind and patient fellow who obliged my lack of sobriety and passionate interest in his friend. Next year I'm going to make him drink with me one night; you don't know a man till you've gotten him drunk enough to throw a punch at a bouncer in a Boba Fett costume.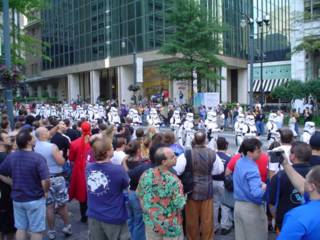 Parade

The parade was really something to see. The
Star Wars
enthusiasts have an entire stormtrooper regiment - the 501st, I believe they're called – that number in the hundreds. If I had seen something like this when I was, say, 14, I would have passed out from sheer impressed-ness. I still think it's pretty damn cool.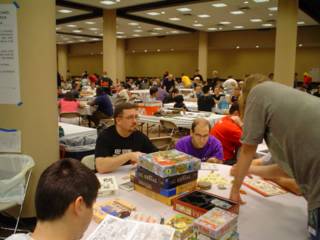 Gaming Area

The main gaming area. I ended up doing no gaming at all – the entire time I was either making new friends, drinking in a bar, making new friends while drinking in a bar, sleeping, eating, or sitting in a panel discussion. Con games tend to be kinda lame anyway; I prefer to play RPGs and strategy stuff with people I know. But it was still cool to wander around in here and see what everyone else was up to.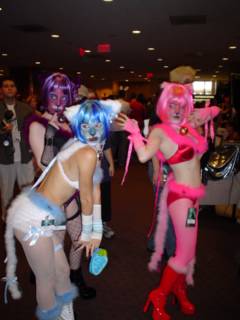 Catwomen

Great costumes and makeup once again. Next year I'm packing a supply of catnip.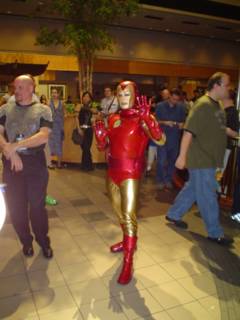 Ironman

Iron Man, Iron Man, Does Whatever an Iron Can!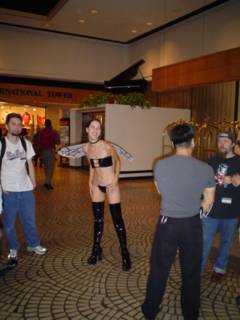 Faerie

There were many faeries at DragonCon, but this one wore the least clothing and thusly garnered the most attention. She's a cutie, but my first reaction – okay, my second reaction – was "Someone really needs to take her out for a couple hamburgers and a big milk shake." Then again, I guess you'd need a tiny frame to pull off an outfit like that.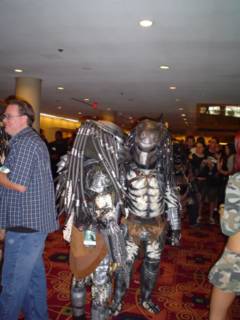 Predators

Fantastic
Predator
costumes. In my book, these came in a close second to the Chewbacca outfit. The detail on these is amazing; they could easily pass for the real thing in any movie that cared to hire them as extras.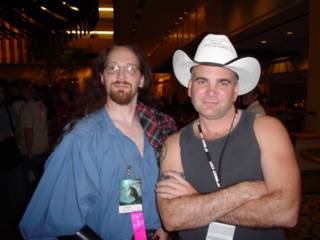 Scott and Sandor

Me and Scott. We met Scott – who has a penchant for kilts and rum – on our first night at the con. He and his friends had me out till 5 am ... the only one I really remember is a pretty blonde who wore a sexy leather collar and was generous with her cigarettes (the rest of us ran out by 3 am or so).
Scott is very cool, but I forgot to get his e-mail address before we took off for Tampa. If any readers happen to know the guy (stranger things have happened) give me a shout.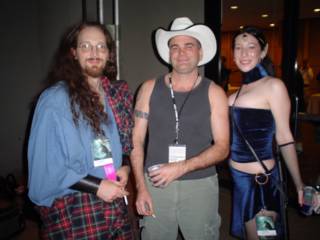 Scott, Sandor, and Reannan

Scott, me, and Reannan. The girl is a knockout in an elf costume. I, unfortunately, am a dork in cargo pants.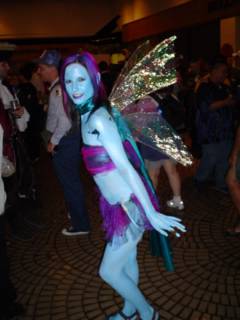 Painted Faerie

One of the more impressive faeries. That's airbrush makeup again, this time total-body. I want to do a costume next year – a good one – but there's no way I'd do anything as intricate as this.
I'm thinking Roland from King's
Gunslinger
books or perhaps one of
The Magnificent Seven
. They're simple, and I already have a hat.
BPCP update tomorrow. Peace.
S