Ronald Wilson Reagan (1911 - 2004)
Today America officially remembers its 40th President, Ronald Wilson Reagan. A state funeral, the first in decades, will march through our nation's capital. A slow drum will sound and a riderless horse will be led forward with the procession.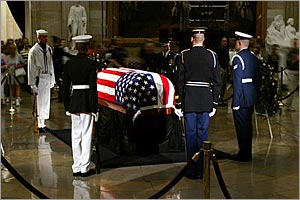 Honor Guard

Ronald Reagan is remembered as a communicator who spoke to the American people with care and forthright honesty. He is remembered as a commander-in-chief who catalyzed Democracy's victory over Soviet Communism. And he is remembered as a President who brought optimism and prosperity back to a nation weary with scandal and divisiveness.
Ronald Reagan is remembered by some of those who knew him best:
"To Ronnie, Well done, thou good and faithful servant."

- Former British Prime Minister Margaret Thatcher


"For Ron with affection, admiration and respect. The Gipper always came through!"

- Former Canadian Prime Minister Brian Mulroney


"I convey my deep feelings of condolence to dear Nancy and the whole family."

- Former Chairman of the Presidium of the Supreme Soviet Mikhail Gorbachev
He is remembered by me as the man who finally ended the dark and bitter fear of nuclear holocaust; I sincerely hope no other generation of young Americans ever has to grow up under such a shadow. Thank you, President Reagan. May you rest in peace.
S